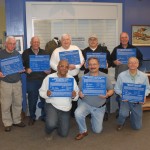 Our club was on a fun run to the Air National Guard Museum at the Minneapolis airport to look at the famous aircraft that have meant so much to us at citizens of our great country. During the tour several of us noticed that the plaques that told the story of each aircraft were quite weathered and scuffed, some had even come off their piers.
We did some inquiries of the staff, and took one of them home so we could explore the possibility of replacing them. Fortunately our regular trophy shop had the right machine to do this, and came up with a wonderful price.
Explaining the situation to our membership, the response was awesome, and many signed up to sponsor a plaque for one of the aircraft.
The Museum is not open over the winter months, so we asked the docents to remove all the plaques and give them to us, over the winter some 24 plaques were prepared.
Early in the spring of 2013 our membership was delighted to deliver these to the Museum prior to their opening for the new season. Many of the plaques have a sponsor name and compliments of Suburban Corvettes of Minnesota.
A fun way to give something back to our fine Museum, they operate only on donations, nothing else.
A big THANK YOU to Phil Brunt for bringing this forward to the membership and following through to completion. We are very proud, and honored, to have had the opportunity to provide these plaques for the MN Air National Guard Museum.