Club Announcements
New Members
Craig & Dorothy Feistner
2017 Silver GS Convertible
Voted into the club in September 2017
Welcome to the club, Craig & Dorothy!!
Dave & Mary Anderson
2004 White Convertible
Voted into the club in October 2017
Welcome to the club, Dave & Mary!!
Club Charity
Spina Bifida Picnic is held in mid-September each year in conjunction with our primary funding beneficiary, Spina Bifida of Minnesota. It includes lunch, hosted by Spina Bifida, followed by our Club members giving rides to children and their families. The event is held at a Regional Park in New Brighton. It gives us the chance to share our wheels with those that live on them.
Community Involvement
SCM also participates in parades, small car shows at assisted living facilities, weekend cruises through the countryside, and gimmick rallyes. Check our calendar for specific events and dates.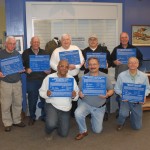 MN Air National Guard Museum.  
Our club was on a fun run to the Air National Guard Museum at the Minneapolis airport to look at the famous aircraft that have meant so much to us at citizens of our great country. During the tour several of us noticed that the plaques that told the story of each aircraft were quite weathered and scuffed, some had even come off their piers. We did some inquiries of the staff, and
Read More
SCCM and Chevy's Best Lunch & Show – a short history by Shawn & Jan Hanna In 1999 I was approached by a woman who had just given her mother over to assisted care at the Park River Estates Care Center in Coon Rapids Minnesota. She approached me to ask if I would consider putting on a car show for the residents of the care center. I said, "I'll give it some thought". Read More
Dennis Albaugh's, Ankeny IA On July 23, 2010, members of Suburban Corvettes traveled to Ankeny, Iowa. Some left early in the day, while others came later. By the end of the day, there were about 40 cars at the Courtyard by Marriott in Ankeny. Read more.